---
TRS connectors
TRS connectors are probably by far the most common audio plug type for consumer electronics in the market. They look like this: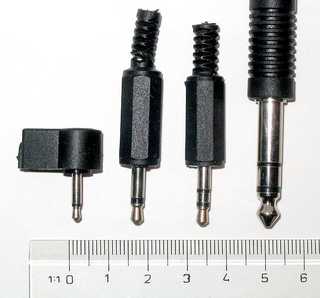 This plug is probably the worst invention ever made in consumer electronics. The problem wouldn't be so bad if the plug wasn't so widespread. It's used in almost every single piece of consumer electronics that supports sound. (The second most common plug type is probably the RCA connector, but it's far behind in popularity, probably because it requires two relatively bulky connectors for stereo sound.)
Why does this connector type suck? Because the socket (the "female" part) breaks extremely easily. I probably don't have a single piece of audio electronics which doesn't have this problem. So far I have had problems with all these:
The headphone plug on the front panel of my PC is so broken that I have put an extension cord on it so that I don't have to break it further by plugging and unplugging the headphones from it (which I have to do on occasion, as I use the headphones for several devices). Still, it sometimes loses a significant part of the audio and I have to wiggle the plug until it works again.
Ironically, the socket on the other end of this extension cord has started to slightly malfunction as well (the audio on the left channel is severely diminished and requires wiggling of the plug in order to make it work again).
My PSP has the same problem. I have to be careful to not to touch the connected plug, lest it go mute on one of the channels.
Same problem with an iPod Touch I have had.
If I connect my headphones to a Mac laptop I have and then unplug them, the audio might not be restored to the speakers. (Apparently the device doesn't always detect that the headphones have been unplugged. I don't know if this is a problem with the connector, which it might well be, or with something else in the system.)
I have a set of desktop active speakers. The active element has a TRS connector for headphones. Well, guess what. You guessed right.
I have four male-to-male TRS converters. ALL of them have serious problems in making a good connection.
The TRS connector is definitely one of the worst inventions in existence. There exist far better connector types out there, including ones which do not take any more physical space (so that they could be used in small devices). But no.
I wonder if this is a deliberate case of planned obsolescence.
---