The undead bent fours in the corner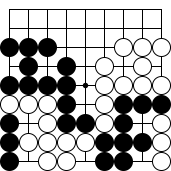 Dia. 1

This is an interesting position I came up with one day while wondering problematic bent-four in the corner situations. Here I present it to you:

Dia. 1: Assume Japanese rules. What is the status of the corner groups?

You can read my own analysis of this situation in the next page.

---
© Copyright 2004 Juha Nieminen
---